Well, I finally stopped being lazy and got some time to make a preview for Every Girl Is A Princess. You can get tagger size at
Busy Scrappin
and
Creative Scraps
, just click on Scraps by Shilo under designers. You can get full size at
Scrappin Freestyle
. There are 69 elements and 16 papers.
Preview:
I also have a new commercial use product which you can also find at the 3 stores above. You can use it to build your own butterfly and it comes with beads to decorate it. It has 3 wings, 3 bodies, 3 antennas, 3 beads, 1 pearl, and 1 diamond.
Preview: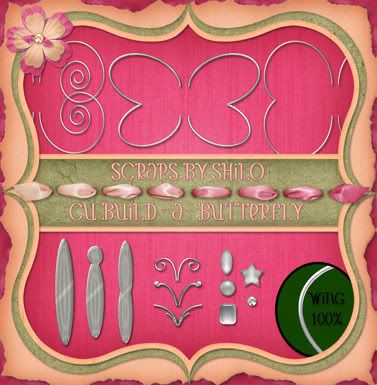 Also, I redid my packaging AGAIN. What do you think? I probably won't change it again except the colors. When I finish redoing my blog, I'll make the colors match.
And Sonel gave me an award. Thank you. But again, I don't want to keep giving awards to the same people lol so I'm not gonna pass it on. Thanks so much though.
Anyways, here's a sampler freebie from Every Girl Is A Princess
Preview:
Enjoy, and comments are appreciated. Also, I'll be posting some layouts and freebie quick pages from Every Girl Is A Princess tomorrow.