Ok well I'm at my sister's and I had some trouble downloading all the stuff I saved to bring with me. So the princess kit and the sample freebie will have to wait a little longer, it's aggravating.
There's a 25% off sale at
Ahhh Scrap
so be sure to head over there =].
Also, today is the opening of
Creative Scraps
.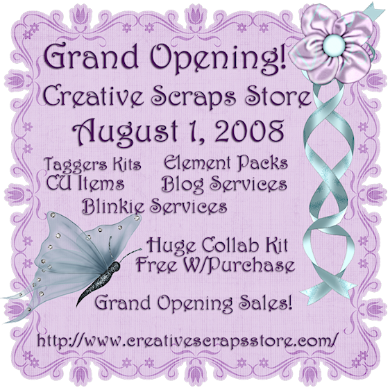 With any purchase, you get this collab kit free: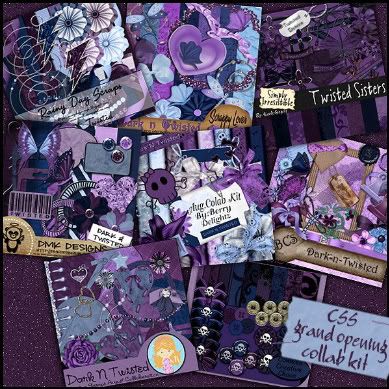 Today is the huge Zoo Spirit Collab, this is my part and you can follow the links below to get the rest. Some people might not have their's up yet so check back later if they don't.
Previews: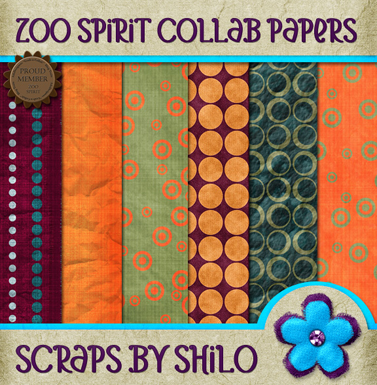 (Elements)



(Papers)



abyscraps

Amanda Truitt

Angel

A Zone for Digiscraps

Brooke & Joni

Burkhart Scrapzone (Michaele)

Buzybee Designs (Penny Lewis)

By God's Design

City Scribe Scraps

Crafter's Boutique (Mardesia)

Creations By Rachael

Creative Digital Scraps by Chiara

Creative Dreams

Deb

Debbie

Designs by Crazy Diamond

Designs by Lisa Minor

Erika (PinkuPixie)

Gone Scrappin' Designs

Heartprints Digital Designs

Kalo Designs

Kelly's Sanity Saver

Kim's Scrappin'

Lady V dZine

LBCreations: Designs by Babette

Lighthouse Designs by Beth

Lighthouse Scrapping and Harbor Designs

Lori Imel

MagsGraphics

Michelle Blagg Designs

Monica at Random Inspirations

Munchkin Scraps by Jody

Nadine: Scrappinmamma

Nancy Schmidt

Panda Bear Designs

Serina,s Designz

Scrappin with Doodle

Scrappin' with Ladye

Scrappin' with Jersey Girl

Scrappy Cats

ScrappyShannon

Scraps by Shilo


^^^You are here^^^



ScripityScrap Designs

Share Joy

Stacey Crossley

Stellarific Creations

Stephanie

The Scrap Loft: Kathy Goldstein Designs

utski can scrap

fairydustprincess-magicmaker

Enjoy, comments are appreciated =]